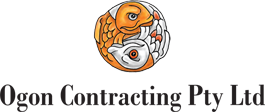 Our Story
Ogon Contracting originated to provide quality and efficiency in Mechanical Repairs and Rebuilds to Earth Moving Machinery.
Our Company has 15 years' experience, with 10 years in the Mining Industry. Ogon brings extensive knowledge of Komatsu, Cat and Hitachi Machinery.
Our focus are our customer requirements, not limited to Mining, Civil and Construction. We also service support for Highway applications and offer support in the Horticultural Industry.
Ogon provides Ex OEM experience which gives the skill set to provide understanding to our customers. Ogon's knowledge and experience reflects in our planning as we minimise down time, increasing machine availability.
Ogon supplies fully equipped field service and mine spec vehicles to carry out prompt assistance.
Time efficiency, effective fault finding and turnaround times provide our customers cost effective field service and labour support.